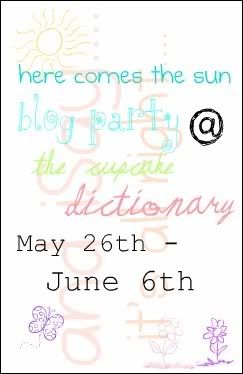 Jocee at the Cupcake Dictionary is having a blog party! It's perfect because it's called the 'Here Comes The Sun: Blog Party' and then sun has finally been out and shining brightly these past few days around here.
So link up, it's going to be a lot of fun and to participate in some of it I'm going to do her little question/answer thingy.
What would your dream summer vacation be? Personally I love my summer vacations already because I get to spend them doing some of the things that I love most, being at Pilgrim Lodge, band camp and marching band :)
After a rainstorm, what you think of when you see the sun peeking out from the clouds? Usually I'm like 'THANK GOODNESS. It's rained far to long, now let's have some SUN!'
If you were stranded on a desert island with the sun streaming down on you and had ONE palm tree for shade, you can only have three things with you; what would they be? Well, since I'm a logical person, I would have a BIG container filled with drinking water, that could also catch rainfall, I would have a giant beach umbrella that would shade me from the sun and that I could huddle under in the rain, and I would also have a fishing line so I could catch something to eat.
Vanilla, chocolate, strawberry or neapolitan? Well, considering I'm a terrible decision maker, neapolitan.
If you saw your celebrity crush walking down the beach with a surfboard, what would you do? Uh...faint? I don't even HAVE a celebrity crush...
If you went back in time for a day, what era would you go back to, and why? Sally no like these questions....Sally like where she live now....
What's your favorite thing about waking up on a summer morning? NO SCHOOL!!!!! YAY!
Your soundtrack or theme song(s) for the summer: for the summer? The marching band show! So basically, my soundtrack for this summer will be National Treasure.
Say you went to California to visit family. What's the first thing you would buy? Well, since it's hot in California, and I'm addicted to ice cream, I would buy ice cream.
Manicure, pedicure, or facial? Pedicure. Things get scraped off my fingernails too easily.
What's your favorite color combination? I enjoy a soft green, blue and yellow, or a bright red, black and white.
If you were at the beach and you wanted to write a message in the sand, what would you write? I do like drawing in the sand but I don't usually write anything, I just draw treble clefs. If I was going to write something I would probably have no inspiration whatsoever and end up writing something lame like 'Sally was here.'
You're stuck in Paris with $10,000. What do you do? Ahh Paris....I miss it so much. From my experience there, I would probably blow it all on baguette and crêpes and pastries and chocolate......
What's your most favorite type of summer weather? When it's early evening and the worst of the heat is gone and it's not very humid and there's just a slight breeze and the scent of sweet grass and barbecue flots through the air.
Blowing bubbles while taking a bubble bath? Uh...YES. That sounds awesome.
Cupcakes or dictionaries? What kind of a question IS this? CUPCAKES!!!!!!!!
Heehee, that was fun. I guess I'm off now to ready my trumpet and trombone, we've got out spring concert tonight and I think it should go really well!