OK so 3 characters
#1. Professor Slughorn from Harry Potter
Comes out of retirement in Half-Blood Prince to teach Potions at Hogwarts
He has his eye on Harry as his 'prized item'
Told Voldemort that it was possible to create multiple horcruxes
#2 Annabeth from Percy Jackson and the Olympians
Sorry, this is the best pic I could get. Annabeth is on the top left.
First came to Camp Half-Blood when she was seven
Child of Athena
Still in love with Luke even after Kronos takes over his body
#3 Yellowfang from Warriors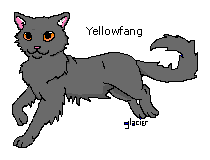 Formally med. cat of ShadowClan, came to ThunderClan in Into the Wild
Mother of Brokentail/star and mate of Raggedpelt/star
Died saving clanmates from fire
I tag
ANY HARRY POTTER, PERCY JACKSON, OR WARRIORS FANS!!!!